Leucophytia bidentata (Montagu 1808)
Click on the thumbnails to enlarge the images
© Dr Roy Anderson
© Dr Roy Anderson
Map hosted by the National Biodiversity Data Centre, Waterford
To view the species profile on Biodiversity Maps and access the live map, please click on the map.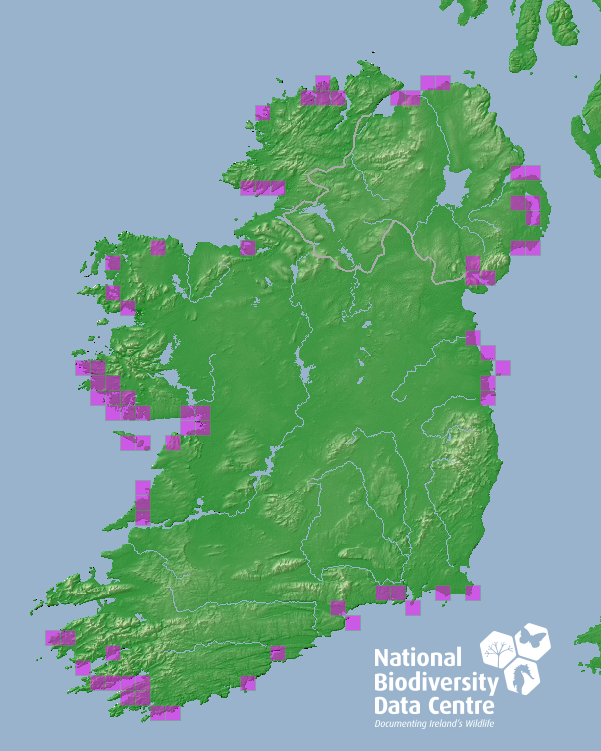 Like a smaller, paler version of the mouse ear shells Myosotella but the shell is much more solid than those species and the spire is slightly turreted. There are no denticles on the outer lip. Upper shore in rock crevices or under large embedded stones.
Key characteristics
Small, very solid, whitish and dull shell
Spire short and slightly turreted
Aperture ear-shaped with a lamella on the columellar part but no outgrowths or denticles on the outer lip
Animal whitish with eyes at the base of the short tentacles
Size
5-6 mm.
World Distribution
Distributed along coasts from the British Isles to the western Mediterranean i.e with a Suboceanic Southern-temperate range (82).
Irish Distribution
Found widely but locally around the Irish coast, wherever sheltered conditions with friable rocks or suitable sediments occur.
Ecology
Widely recorded from cavities under stones embedded in muddy gravels and clays on the upper shore of sheltered bays and inlets
Recorded occasionally with Myosotella denticulata under stones on sheltered stony foreshores
More typically found in silty crevices of friable rocks such as slate on the upper shore or under rock overhangs
Red List status
Wikipedia link
Wikipedia page for Leucophytia bidentata
Anderson, R., (2016). Leucophytia bidentata (Montagu 1808). [In] MolluscIreland.
http://www.habitas.org.uk/molluscireland/species.asp?ID=103 Accessed on 2020-01-27.