Leiostyla (Leiostyla) anglica (A. Férussac 1821) English chrysalis snail
Click on the thumbnails to enlarge the images
© Dr Roy Anderson
© Dr Roy Anderson
Map hosted by the National Biodiversity Data Centre, Waterford
To view the species profile on Biodiversity Maps and access the live map, please click on the map.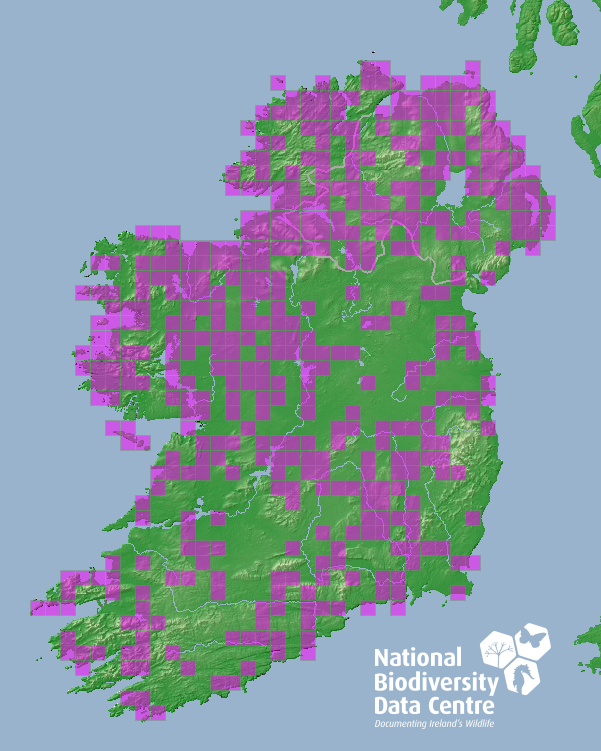 A handsome chestnut snail with four strong teeth in the aperture. Shell broad, slightly barrel-shaped, of 6-7 whorls. The lip is thickened and reflected outwards and has a conspicuous central indentation. Whorls flattened, not convex.
Key characteristics
A small barrel-shaped shell with acuminate spire i.e. rapidly narrowing to apex
Colour a rich red-brown when fresh but often oxidised to a dull whitish - a pure white form occurs locally in eastern counties
Aperture with a conspicuous central indentation and lip thickened and reflected outwards
Four strong teeth present - 2 parietal, 1 columellar, 1 palatal - entering the aperture in a complex curved trajectory
Size
3.5-3.8 mm.
World Distribution
Confined to extreme western seaboards in Europe from the British Isles to Portugal and into north Africa. Distribution type: Oceanic Southern-temperate (81).
Irish Distribution
Commoner in Ireland than elsewhere in Europe (Kerney, 1999). Widespread and locally common, particularly in the north and west.
Ecology
Common in wet, shaded habitats on neutral to base-rich soils
Usually found attached to twigs or larger branches in leaf litter on the ground - not a species which climbs on trees or walls
Towards the west coast recorded from more open habitats such as acid coastal heath and rough pasture
Red List status
Wikipedia link
Wikipedia page for Leiostyla anglica
Anderson, R., (2016). Leiostyla (Leiostyla) anglica (A. Férussac 1821). [In] MolluscIreland.
http://www.habitas.org.uk/molluscireland/species.asp?ID=102 Accessed on 2018-07-17.